Paint Parties
Paint Parties
Timree Paint Parties are such a fun and cute way to celebrate....
[powr-image-slider id=389cc40a_1466624493753]

Let's paint and celebrate at the cutest studio ever! So cute for ages 6 to 96!
Parties are taught in the, ever so cute, Timree Technique™
- All paint supplies are included
- Canvas is 11" x 14" high quality and acid free.
- Paint is non-toxic acrylic, we do like to say that paint can be kind of a mess, so don't wear your party dress.
- Aprons will be provided

Visit our CALENDAR to find your date. At time of booking a $100 private party fee is required (please note this is non-refundable and non-transferrable) 
Each painter is $50, there is a minimum of 8 painters required. There is a maximum of 30 painters in our studio! Have more painters? Consider a Timree-To-Go!
Total party cost is the Private Party Fee ($100 taken upon booking) + $50/painter (paid on the day of the party, and only for the amount of people that show up). Parties are a minimum of $500 ($100 Private Party Fee + 8 Painters at $50 each)
Parties will be taught by one of our fabulous Timree Teachers.
To request TIMREE herself  please call the studio or email info@timree.com
to check availability and for pricing information 949-723-1300
Choose your FREE digital invitation!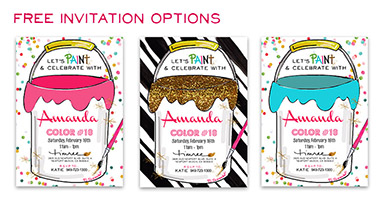 Email info@timree.com with invitation color (pink, gold, or turquoise), birthday kid's age, and where you would like the RSVP to go to and we will email back with your digital invitation!

Click HERE to view the painting gallery.
Please let us know what you would like to paint at time of booking or 3 days prior to your party date.

Paint parties are 2 hours with 30 minutes prior for set-up and 30 minutes after for clean-up. There is a $50 late fee for every 30 minutes your instructor is delayed. If you would like additional studio time please talk to your instructor during your party, we will accommodate extra time if possible.  
Our 8'x3′ table is all yours for setting with food, drinks, presents and more!
Paint parties are always drop-off with a max of 4 adults to chaperone (unless they are painting of course) 
Timree Paint Pants!
At the beginning of the party we'll turn the birthday girl's pants into PAINT PANTS! Complete with a dash of glitter.
Just have the birthday girl wear or bring them to the studio and we'll take care of the rest! Just let your Timree Teacher know at the beginning of your party. 
[powr-photo-gallery id=2b6e80cb_1466725298884]